SPCALC Electronic Solubility Handbook, Database and Calculator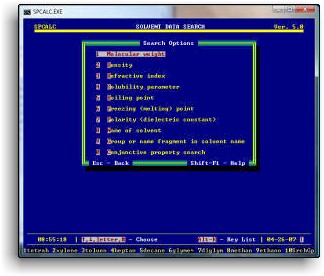 Screen shot of SPCALC running under Windows Vista®
If you are a working scientist, engineer, student, or formulator or you simply need to find optimum solvents or solvent mixtures for any application, try SPCALC. SPCALC can find solvents in its database of physical properties for 1200 solvents meeting single or multiple criteria for any solute, sort the results in any of 8 ways, predict solute solubility, or calculate an optimum solvent mixture from basic physical principles. Full, context-sensitive, pop-up help, extensive documentation, quick-tour tutorial, fully-customizable, macros, Windows/OS2 multitasking support, and much more! Based on the original Hildebrand-Scott solubility parameter concept, as extended by Hoy and Small, SPCALC's calculation methods are founded on accepted, fundamental physical principles.
SPCALC was written by Dr. John M. Zeigler for use in his own research, formulation and polymer compatibility work. Its over 100 page manual includes a quick tour tutorial, full use instructions and suggestions, support information and a detailed scientific appendix for those who would like to understand the scientific basis for the program. SPCALC has standard a Windows install program. The manual is available for free download in ASCII format with the free trial version of the program. Registered owners of the full version get the full 1200 solvent database, fully-enabled program function and the manual in printable PDF format.
SPCALC features

Physical properties database for 1200 solvents, fully searchable and sortable
Can calculate solvent mixture compositions and properties, predict solubilities, identify potential solvent immiscibility problems
Runs on any PC or compatible with DOS or Windows operating systems
Fully configurable interface
Multiple report output types, with support for multiple printers and print formats, including lab notebook-friendly format
User friendly, with complete context-sensitive built-in Help, Tutorial, and extensive printed documentation

Some Applications

Calculate approximate theta-solvents for polymers
Estimate polymer/polymer blend miscibility
Choose optimum solvents for HPLC
Identify optimum solvents for swelling/dissolving polymers
Quickly find physical properties data for various solvents/compounds
Predict solubility of solid organic compounds
Check for solvent immiscibility problems
Pilot-plant operations
Formulate solvent mixtures for paints and other coatings
many more!
---
SPCALC's default solvent database file in the registered version contains physical property data (molecular weight, density, solubility parameter, melting point, boiling point, refractive index, and dielectric constant) for nearly 1200 organic and inorganic solvents. The physical property data have been derived from a variety of standard reference works. Every effort has been made to assure the accuracy of these data and several corrections of incorrect data in these works have been made. SPCALC allows the user easily to add new solvents and compounds that may not have been included in the large database or edit existing ones. Added solvent information can then be used just as any other solvent in the database.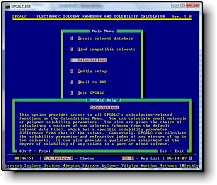 SPCALC runs on all PC operating systems, including 32-bit Windows Vista® and 64-bit Vista with a DOS emulator. As a result of extensive code optimization and conservative design, it will run rapidly on virtually any PC-compatible or even on a Macintosh with a DOS emulator or native DOS capability. An earlier trial version of SPCALC, lacking the Windows installation program and PDF documentation, has been included in a number of compendia of scientific programs and was rated 4 stars by Ziff-Davis Interactive.
A trial version of SPCALC, with limited functionality and a reduced database of 200 common solvents, can be downloaded free from the link below. A full version, with support, over 100 page PDF manual, full functionality, and the full printable 1200 solvent database is available for $29 US, plus $5 S/H, or $29 sent by e-mail from this site.
SPCALC System Requirements
SPCALC, Version 5.0.1, requires an IBM PC compatible computer with 1.5 Mb free hard disk space, 384K RAM of free conventional memory, and any video card and monitor (color VGA recommended). The program will run under DOS, v. 2.11 or later, any version of 16 or 32-bit Windows (including Vista®), 64-bit Windows with a DOS emulator, and OS/2. Macintosh users can run it only if they have DOS emulator software running on their machines or if DOS is supported natively. See our support page for more information on DOS emulator software and SPCALC.
Download Trial Version
Download trial version of SPCALC! (includes Windows installation program and ASCII version of manual).

Download trial version of SPCALC for Macintosh (ZIP file requiring a DOS emulator like DOSBox or native DOS emulation to run the EXE, after unzipping)

Download instructions: Save the file to disk or your Desktop. Then simply open Explorer to the directory in which you saved the SETUPSPC.EXE file and double click it to start installation. If you saved the file to your Desktop, simply double-click its icon to begin installation. You may also start the installation program from your download manager.
SETUPSPC.EXE, and the registered version, have been checked for viruses, adware and spyware with three different up-to-date scanning programs and found clean, but we recommend, as a matter of good download policy, that you scan it (and any other downloaded software) with your own up-to-date antivirus software before you run it, if you have any questions about virus contamination. Neither version incorporates adware, spyware or embodies use tracking in any form.
Order Full Version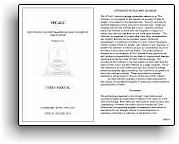 A full version of SPCALC, with support, over 100 page manual in printable PDF format (see reduced size pages at left), full functionality, and the full 1200 solvent database is available for $39 US, plus $10 S/H on diskette or CD-ROM, or $39 US (no S/H) sent by e-mail or downloaded upon receipt of your check or money order. See our Buy SPCALC page for an order form and details.
SPCALC users, or those who would like more information, can get free support from the SPCALC Online Support Page