Construction Vibration Damage Guide (CVDG) for Homeowners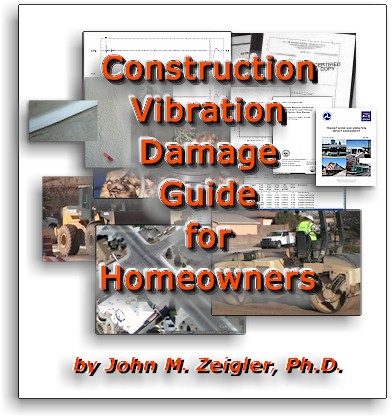 vibration, vibration damage, construction vibration, vibration form road construction, vibration from construction equipment, human vibration perception, homeowners, guide, vibration monitoring, vibration interpretation, vibration transmission, cracking, home, vibration damage claim
The free Construction Vibration Damage Guide for Homeowners (CVDG, ©Copyright 2013-2017 John M. Zeigler) was developed for use by those who feel they might have experienced damage to their homes from construction vibration or who have concerns about planned construction in their area. It describes how to document a legitimate claim for damages, how to evaluate options in making a claim for vibration damage reimbursement and much, much more. It includes a great deal of scientific and technical information, written for non-scientists, that attorneys and responsible construction firms may find valuable, as well. The Guide can be used by those who are trying to resolve a damage claim without legal recourse, those considering legal action and those who simply want to find out about or prevent vibration damage.
The CVDG is written in non-technical language (Flesch-Kincaid grade level of 12), although explanations of many technical terms and concepts are provided to allow those with non-technical backgrounds to understand the terms used in the field. You can read the most recent version of the Guide as web pages on our dedicated site at http://vibrationdamage.com. A free PDF version of the entire 110+ page Guide, with additional content not available online, can also be obtained from http://vibrationdamage.com/download.htm. For those who need more technical information, still written in layman's language, the CDVG is available in an over 270 page Professional Edition, also from http://vibrationdamage.com.
The copyrighted CVDG, in either version, may not be offered in PDF format to others or reproduced on other web sites. The Guide is available free to individuals for personal, at-home, non-business, use only.
Disclaimer: The Construction Vibration Damage Guide is not offered, and should not be considered, as legal advice. Seek the advice of an attorney with construction vibration damage claim experience and knowledge, if you need legal help.
---
See if We Can Help You!

If you're interested in exploring whether we can help in your construction vibration damage issues, as a homeowner, an attorney or responsible contractor, contact us now. Initial consultations are free and confidential, without obligation. You can reach us at drzeigler@silchemy.com or call us at the contact numbers on the Contact Us page.